CX Realities
The New Era of CX is Channel-less
Moving from a multichannel to an omnichannel customer experience (CX) strategy marked a significant milestone for CX teams and customers, transforming choppy interactions into consistent ones—regardless of channel. Now, however, omnichannel isn't enough.
Channels matter from an operational perspective, but planning and building journeys for individual channels in isolation doesn't make sense when you consider that customers use an average of nine touchpoints to engage with companies. We are living in a world where people and their expectations move fluidly across channels.  
Consumers don't think about the channel. If they start filling a shopping cart on their laptop at home, they expect to seamlessly complete the purchase hours later from their mobile app and check the status of that order from anywhere.  
Connected experiences are how brands compete today. By making moving across channels feel seamless and satisfying, brands can provide seamless, frictionless CX. The reality, though, is that less than one in four brands actually have the technology to support this. 
Come with us as we discuss how brands can overcome entrained thinking about simplified journeys by channel in favor of a holistic, customer-centric mindset supported by advanced tools that didn't exist in as little as six months ago.   
There's a new reality when it comes to the customer experience. Cracks have appeared and channel-based communications are starting to falter.  
Now is the time to move beyond omnichannel techniques and toward strategies that focus on customer needs and how real people flow and move across platforms, channels, devices, and environments. It's time to break down the silos and embrace fluid customer interactions. Seize the opportunity to adopt a new operating model where your various business units (including marketing, service, product development, and IT) unite to put the focus on your customers. This is what "going channel-less" is all about, and it's the key to becoming the next killer brand on Wall Street, Main Street, and everywhere in between.
As Taylor Standlee, Stellar Elements' CMO, puts it, "When businesses understand how people are actually moving across channels, there's an opportunity to align around their intention in context, removing friction and boundaries between channels.
"This is about understanding the intentions of customers in context. The future lies in creating experiences where channels become invisible, allowing the brand's value to shine through, as ownable experiences that empower businesses to win on relevance."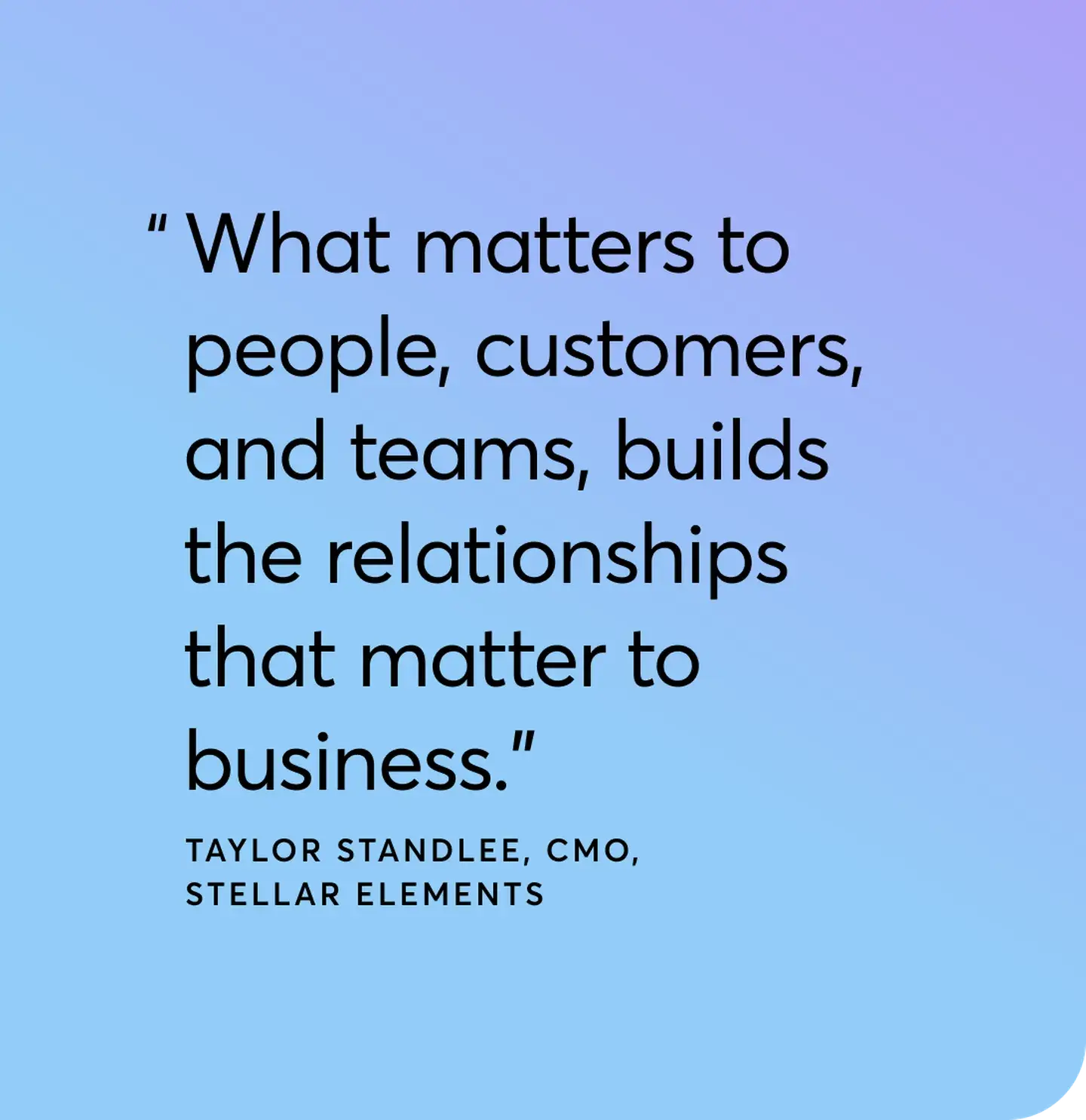 The Evolution to Channel-less

 
In a multichannel world, brand teams think about which platform they need to be on. For example, should their brand build a presence on TikTok? While this allows customers to interact with a brand in a variety of ways, information falls through the cracks as one channel doesn't always communicate with the other.

As teams build upon and expand their channel capabilities, they look to integrate communications into a smooth experience for customers across all channels (hence, omnichannel).
But, omnichannel often stumbles in practical execution.
It can be costly, and many companies struggle to make all their systems, data, and business units work together, resulting in a fragmented customer experience instead of a consistent one.  

The brands that win at customer loyalty are the ones with teams who turn the channel mentality on its head completely, and put the customer first. They contextually support the customer by orchestrating channels, data, and context to meet the customers wherever they are in their journey.  
 
In this channel-less world, brands undergo a transformation—flexing teams, processes, technology, and channels to best serve customer's needs and delight them in a way that unfolds naturally and intuitively. It signifies an evolution in the CX where the experience is driven by the customer's needs and wants instead of the brand's.
The Impact on Your Business
Simply put: omnichannel is a business-led approach, whereas channel-less is a customer-centric shift. 
 
"It's about providing a brand-building experience so fluid that customers don't feel the transition between channels—they just feel understood and served," Standlee explains. "It's about connecting with people and moving them in ways that move people and the business forward." 

By focusing on the job people are trying to get done rather than the channel, you can do more than meet these needs—you can form lasting connections and bonds with customers.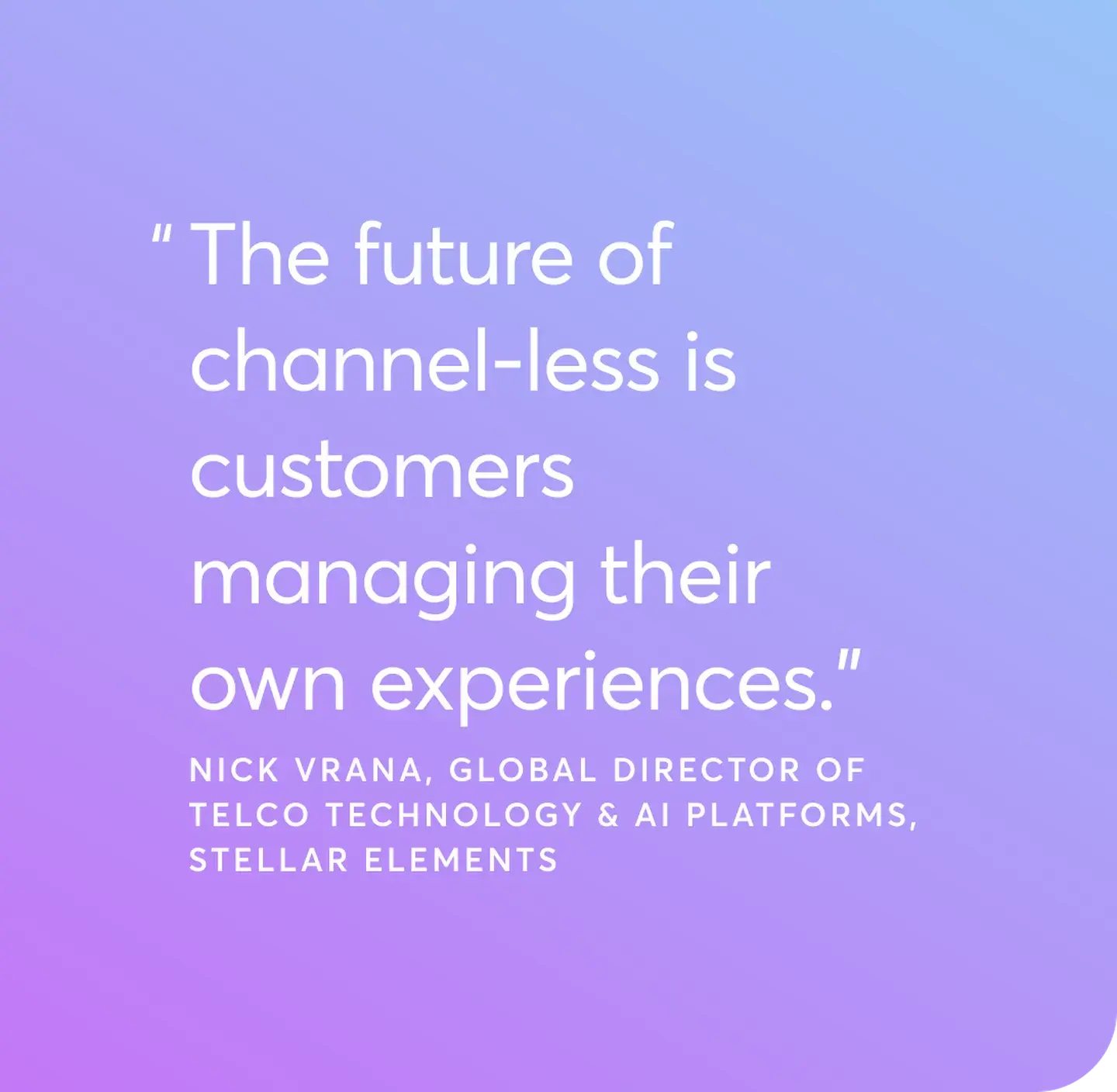 Channel-less allows for real-time customer feedback, enabling businesses to adapt quickly to changing preferences. This context and adaptability is a significant advantage in today's fast-paced digital world, where customer expectations are continually evolving. By crafting highly personalized experiences and being able to pivot in real-time, you'll build stronger relationships with your customers. 

By design, channel-less also empowers customers to personalize their brand experience on their own terms.
Key Benefits of a Channel-less CX
Agile Responsiveness: Address evolving customer needs in real-time. 

Personalized Engagement: Tailor experiences to individual preferences. 

Enhanced Loyalty: Foster stronger relationships to drive increased sales. 

Transparent Communications: Offer essential information consistently across all channels. 

Empowered Self-Service: Enable customers to take control of their service interactions, enhancing convenience and satisfaction.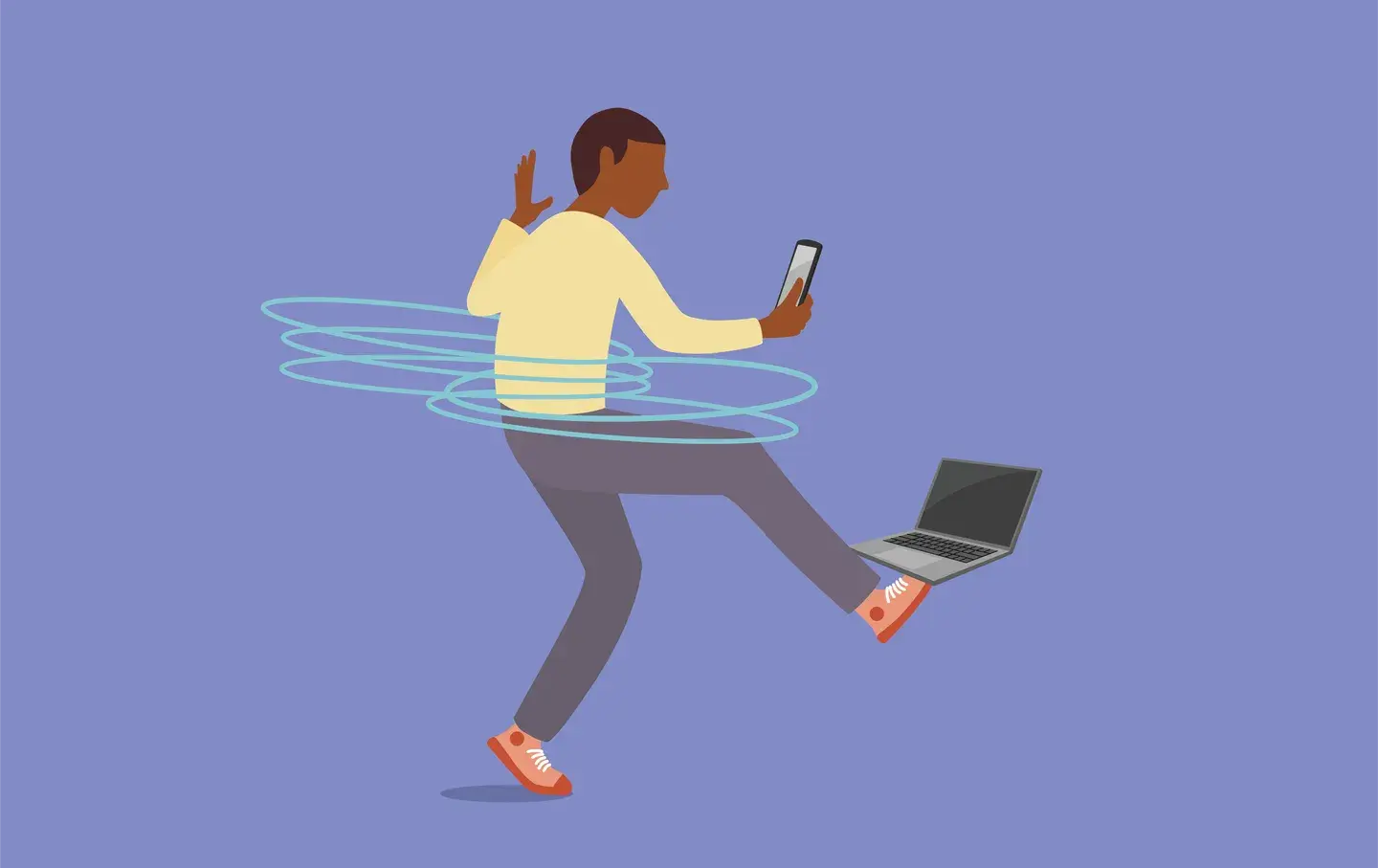 Channel-less in Practice 
Channel-less, at its core, revolves around seamlessly onboarding, assisting, supporting, and delighting customers. It's about leveraging technology to coordinate every business unit and channel in perfect harmony to serve each customer's unique stage in their journey. It's about a continuous, intuitive experience. 
 
Here's an example to illustrate the channel-less experience:

Meet Quinn, who is intrigued by your service or product. Quinn signs up on your website and is instantly guided to join the mobile app. Upon logging in to the app, all of Quinn's profile preferences are automatically populated (kudos to the product group). The app greets Quinn with personalized offers, which are also reinforced via email (thank you, marketing group). Quinn also finds a customer support section within the app, outlining all the various ways to get in touch with support (hat tip to the service group). And when Quinn leaves a positive review, loyalty points are granted (another nod to the marketing group). As Quinn continues to interact across web, mobile, and in-store, information about new features is presented for Quinn to vote on, helping the company prioritize initiatives (thanks again, product group). Of course, none of this would be possible without the IT department making sure everything works on the back end as intended.  

Several forward-thinking companies have fully embraced the channel-less approach.  
 
Take Amazon, for example, which has seamlessly integrated its online and offline presence, ensuring an exceptional customer experience whether you're shopping from your desktop, smartphone, Alexa device, or in a physical store, like Whole Foods Market, Amazon Go, or Amazon Fresh.

In the realm of music streaming services like Spotify or Pandora, customers don't want to see web, app, or voice-controlled smart speakers as distinct channels, they just want to listen to their favorite tunes or discover new music effortlessly. If you start building a playlist on your laptop, you expect it to appear on your smartphone the moment you switch to it, or play on your smart speaker right when you ask.
The notion of channels dissolves, leaving behind a wonderfully fluid experience.
Let's look at the experience delivered by Apple. When you wake up and check the Calendar app open on your phone, the app starts bouncing on your Macbook, prompting you to switch over to your laptop seamlessly. And Siri can effortlessly remind you of an appointment, across all your devices. 
Advice (and Avoidable Mistakes) from the Trenches
The shift to channel-less is not an overnight process. It is a new philosophy that changes the way you engage—how you approach getting to know your customers, how you support and service them, and how you flex technology and data to create connected, ownable, and unique brand interactions. 
 
Here's a collection of invaluable tips from our Stellar Elements CX experts offering guidance on where to start and pitfalls to avoid: 
Embrace the customer context 
In today's digital landscape, tracking customer behavior and intent is essential. Begin by understanding the kind of experience that your customers want to have. Then, harness technology to create that path. 
 
"You can track people and understand what they're trying to do. Try not to have customers repeat across channels. Be context-based. Don't put the focus on where the customer is now; make it about what the customer is trying to do." 
– Bob Skubic, Brand Design Practice Director 

 
Get intimate with your customers (in real-time, all the time) 
Truly get to know your customers through analytics and data-based insights. 
 
"Work towards a deeper understanding of your customers: Create robust and comprehensive personas and journeys to illustrate needs. Research and validate. Get your data house in order. Invest in technology. Test and iterate." 
– Ross A. McIntyre, Senior Strategy Director, Innovation 
Connect with their emotions 
No matter how strong the rational argument, understanding what customers feel is the best way to drive them to action. 
 
"It is only by analyzing, understanding, and addressing the customers' core emotional needs that brands can adequately serve their customers. Organize a customer need framework that categorizes all core emotional needs according to the following concepts: Know Me, Direct Me, Empower Me, Connect Me, Offer Me, Respect Me." 
– Ross A. McIntyre, Senior Strategy Director, Innovation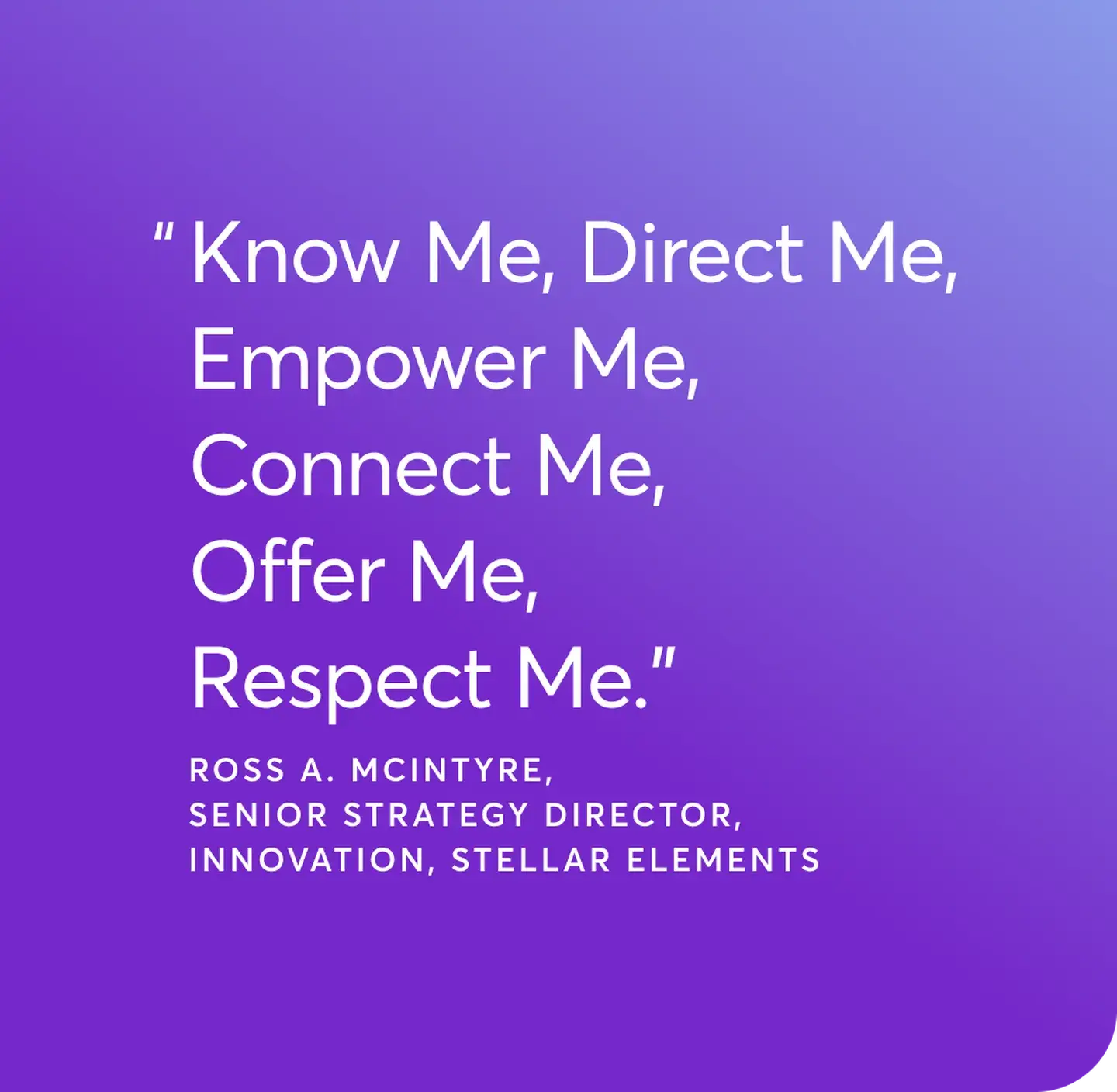 Take a reality check 
Reflect on whether your organization is genuinely customer-first and customer-centric. 
 
"Have an internal war-room conversation and evaluate if you're really customer-centric or if you're tech or operations-centric. What's your goal? What are your headwinds and tailwinds right now? If there's a need to pivot, there's no time like now." 
– Nick Vrana, Global Director of Telco Technology & AI Platforms 

 
Breakdown organizational silos 
Readiness for channel-less means an internal willingness to change. 
 
"The biggest gap is the organizational lift needed to make the shift. Start by binding teams together, incentivizing them to operate under common objectives." 
– Bret Janak, Global Design Lead 



Get your back house in order 
Even with a channel-less, customer-centric mindset, the integration of systems and data remains a hurdle for many organizations, ultimately leading to disjointed customer journeys. 
 
"For 20+ years, we have been talking about personalization and now we can can take a massive step forward towards personalizing the experience people have on their own terms. The challenge, however, will lie in managing and interpreting vast amounts of customer data across disparate systems." 
– Taylor Standlee, Chief Marketing Officer 
 
"There's a hidden opportunity here - companies sometimes kick off huge initiatives to simplify by trying to make a single technology do it all. Instead they should focus on simplifying the way they access their customer data - which represents their relationship with the customer - so they can leverage it with the right technology in the right place." 
– Nick Vrana, Global Director of Telco Technology & AI Platforms 




Don't get distracted by shiny things 
In the midst of channel-less buzz, it's crucial to stay grounded. 
 
"Be wary of jumping on the bandwagon without proper infrastructure, strategy, and customer-centric focus. Be honest about your capabilities, invest in integration and training, and prioritize the actual needs of the customer over the allure of the latest tech or trend." 
– Taylor Standlee, Chief Marketing Officer 



Expect growing pains 
As your business scales, all of these tasks become more complex. 
 
"It's easier to deliver a great experience as a small business. As you scale, it becomes harder and everything becomes frankensteined and siloed. If you're strategic about it as you grow, you can create the experience that is timeless and universal." 
– Bob Skubic, Brand Design Practice Director 
 
In the end, moving to a channel-less approach is a journey in and of itself—one that requires the whole business to come together and commit to understanding, serving, and delighting your customers in new and innovative ways.
Next up from Stellar Elements Insights
Tell us where to reach you and we'll let you know when the next installment of Insights is released.